Storytelling and Appreciative Inquiry
Stories rule the world - and also organisations.
"Storytelling" is more than the simple sharing of anecdotes. It is a process in which people exchange defining experiences and visions. Storytelling is an innovative method of knowledge management. It enables the development of integrated strategies and invigorates teams in organisations by strengthening motivation.
I create a space for telling these stories.
In the storytelling workshop we focus on stories that lead to a positive outcome and analyse the reasons for success.
In the style of the "4-D-Cycle" of the "Appreciative Inquiry", each participant develops a vision for their role and how it can impact the organisation. In the workshop the participants get clarity on the necessary steps to implement this vision. Sharing it with the group strengthens and supports this appreciative process. In the 2019 workshop we focussed on the topic of trust. Get an impression in the video. 
Workshop Video Harvesting 2019 on TRUST
Procedure: In a preliminary talk we determine the leading topics for the storytelling process. In order to allow the participants to immerse themselves in the process, storytelling workshops usually take a minimum of two days.
Why stories are powerful
"Those who tell the stories, rule the world."
Hopi American proverb
Storytelling can also be used during individual coaching. "Biographical Storytelling" isn't psychotherapy, it is a way to find out more about yourself. Telling your own story displays the common thread throughout your life. Connections between events become clear and one's own potential becomes a tangible picture. This examination is especially beneficial for people who have, for any reason, experienced breaks in their biography, for example migrants, 'third culture kids' or expats.
Procedure: In a preliminary talk we discuss your needs and the mode of procedure. Coaching with storytelling can take place in a few longer sessions (for example 2 sessions taking 3 hours each) or in continuous sittings taking 1 to 1.5 hours – via skype or in person.
My own experience:

This training will be different. That was clear to every participant that entered the room. On the floor, we had prepared a symbolic fireplace. Scattered around it lay colourful cushions. After all 18 participants from 16 different countries around the word had got themselves comfortable, we began with the question - 'what did they connect with the image of the fireplace?'. The stories that each of them told were unique. However, they all described very similar feelings: companionship, relaxation, curiosity. One participant from Ghana explained how he had sat around the fire as a child, together with his friends, after they had collected grasshoppers. Another participant from India remembered how her father had sat with her by the fire and shown her the constellations. This remembrance of personal stories created a unique familiarity, and established a good basis for the eight-day storytelling workshop in which the participants told touching working life stories. These stories in turn proved their commitment to their job and led to an encouraging group cohesion that showed its impact far beyond the workshop.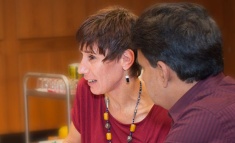 How participants describe their experience:
It was a wonderful experience in life to be a participant of this story-telling workshop. I have a feeling that I received the greatest appreciation and reward of my work in my life. To meet so many great friends from different parts of the world is not common. I am highly influenced by the intimacy and trust which developed naturally among us within the nine days which I am sure will last forever.
References/examples
I gained important experience aobut the method of storytelling in my role as process facilitator during the Harvesting programme at the Hermann-Gmeiner-Academy. 
www.hermanngmeinerakademie.org
---
At the Sietar Conference 2013 in Tallinn I gave a workshop together with Manuel Heidegger on how to use storytelling in intercultural trainings.