Participation & Action Research
For me it is of the highest importance that research should always be carried out with the utmost respect and care for the people whose environment is explored.
My expertise in qualitative research originated from my own research experiences. In intercultural groups, I soon recognised the limitations of language-oriented methods. This encouraged me to try new practices and methods.
In order to approach my research partners respectfully, I implement both dialogic and participatory methods. I mainly follow the methodology of "Grounded Theory". To enhance the systematic analysis I use ATLAS.ti, a program used for computer-assisted analysis of qualitative data.
I create research situations in which the people are at the centre.
Are you searching for a lecturer who can teach your students methodological skills in qualitative research in an interesting and authentic manner? Or perhaps you are looking for a researcher to conduct qualitative evaluations or studies in the subject areas of development, learning and interculturality?
Why researchers are listeners
"The most basic and powerful way to connect to another person is to listen."

Rachel Naomi Remen
For over twenty years I have held seminars with practical relevance on the topic of Methods of qualitative social research, Grounded Theory and Atlas.ti, as well as on the topic of scientific work. Research practice and reflection are important components of my seminars. Through cooperation with partner universities in Uganda and Malawi I regularly organise practical field experience, in which the students learn how to apply the methods in real life.
I am highly skilled in all of these areas, get in touch with me for a preliminary conversation.
When I was a student, I lived in a village in Burkina Faso for half a year, in order to research family relationships in a polygamous family. At the time, I had little experience with field research. Each day I visited the family and their veritable horde of children and studied their day-to-day life and their relationships. As time went on, I became a natural part of the family. Whenever I arrived on my bicycle, the little children would be sitting on a tree trunk in front of the house, waiting for me. On one day I noticed that something was different. The children came running towards me excitedly, happily showing off the toys that they had just received: a Barbie doll, a ball, a skipping rope. Proudly they led me to the yard. And there she was, the aunt from Ivory Coast, the Fairy Godmother that had brought them all presents and was enjoying the attention she got in return. When I returned to the family a few days later, the aunt had left, but her eight-year-old son had stayed behind. From then on, he lived with the family – as an ordinary family member. It didn't matter if he was cousin or brother. The fact of the matter was that he was here, and he belonged.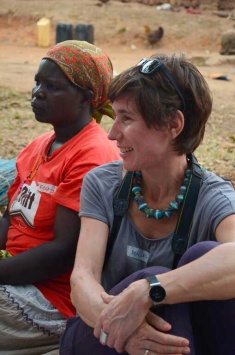 How participants decribe their experience:
As a qualitative researcher I lecture at the University of Innsbruck (Department of compartive educational science and communication) and the University of Vienna (Department for Development Research).
During an extensive annual research seminar I organized a field research lab in Uganda in 2015. 
www.facebook.com/Go-Organic-Go-to-Uganda-Go-for-Research
I want to inspire students with my passion for qualitative and participatory research. I use forms of action learning and dialog to support the students through intensiv collaboration and constructive feed-back. 
Together with Suzanne Zoller-Mathis I did a study on: "Culture and relationships". We explored the influence of culture on the relationship between car-givers and children in foster care homes.
KulturBeziehung_Endbericht (pdf / 1,7 MB)
An evalution on a programme of inclusion at the Kathi-Lampert Schule was carried out by myself to highlight the lessons learned during this project.