Intercultural Competencies & Team Development
The readiness to be inspired by encounters with the previously unknown is the basis for developing an intercultural skill set.
Working in intercultural teams is exciting, but is often very demanding. The working practices of others can lead to annoyance or provoke opposition. Deadlines and clear guidelines leave little time for exploring different perspectives on practices. Creating room for this exploration requires patience, but also openness and courage.
How does a team develop a team culture, in which diversity is appreciated? How can you break this culture down to the everyday challenges of the international team?
I will gladly guide you along the exciting path to intercultural cooperation.
I can create a space conducive to intercultural learning.
In training, you learn in a group setting. You explore questions that unconsciously shape intercultural cooperation e.g. What views do the team members have on authority? How do they handle criticism and how independently do they tackle tasks?
Becoming aware of these questions allows us to steer team processes. Explore for yourself how intercultural exercises open up new and unexpected perspectives, and improve mutual understanding.
In the trainings you get active yourself. You contribute examples from your own life. You practice and develop new strategies and put them to the test immediately.
Why the crocodile is interculturally competent
"

The crocodile lives in the water, yet breathes the air demonstrating an ability to adapt to circumstances."

Adinkra proverb, Ghana
Procedure: I design the training according to your requirements. We determine your needs and challenges in an initial consultation. A training takes one to three days. Depending on your preferences it can also be combined with e-learning.
In coaching you take advantage of an individual learning space. You contribute concrete examples from your work life and, with my assistance as a coach, you develop ways to deal with difficult situations in a constructive manner. You explore new work practices and sharpen your awareness for your personal resources.
Procedure: In an initial session, we will determine your needs and define our ways of working together. A coaching session takes 60 to 90 minutes. It takes place every two to three weeks via skype or in person. If you would like to combine coaching and exercise in the open air, you can ask for "Coach&Walk".
It was a morning like any other. Together with a team of young Eritrean teachers and the Irish headmistress I was running a newly opened kindergarten. As the head of training I worked in the kindergarten during the mornings. The afternoons were reserved for trainings and joint preparation. Slowly, the children began arriving and occupying themselves. Shortly before nine o'clock, the last father stormed into the room with his daughter and demanded to speak to me. He berated me with a flood of criticism, consisting mainly of meaningless prose. Questioning him, I soon found out the source of his annoyance: He believed that I disliked his daughter and treated her unfairly. The father was irritated by the fact that I did not greet his daughter with a hug and a kiss on the cheek. As a kindergarten teacher in Austria, I would have seen this as inappropriate, but the father believed that I simply disliked his child. This experience among others made me aware of how differently people interpret physical closeness or distance, and helped me realise that it made sense to question your own habits and beliefs. As a result I adapted my behaviour and started to embrace the children in the kindergarten. This was met with approval by both the father and many Eritrean parents.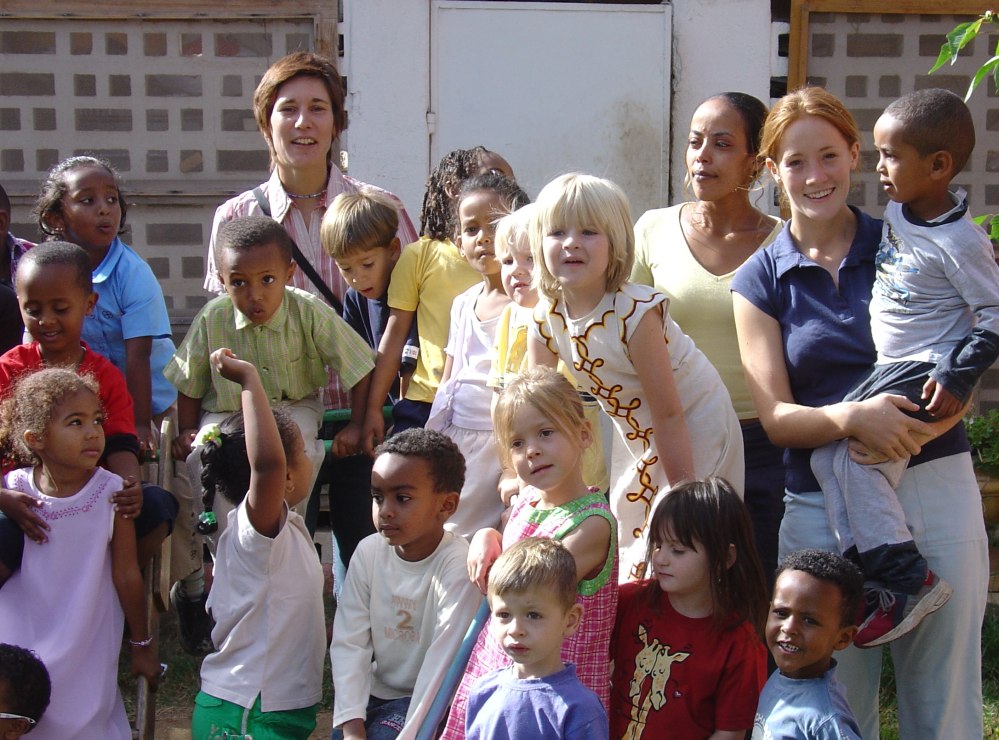 How participants decribe their experience:
HORIZONT3000 prepares people for postings in countries in Africa, Asia and Latin America. We see intercultural competence as a very important resource for successful cooperation and mutual understanding. The approach Margret uses has proven its efficiency, because it integrates exercises and role play in a way that raises awareness of the other cultures but also lifts the understanding of one's own cultural background. Her competence in training methods, her empathy in the group and her social ability enriches the training and makes it one of the highlights of our preparation course.
If you are constantly looking for improving and changing your organization, and you are working with people from different cultural backgrounds, you need to learn about ´cultural codes´ and find out your way how to deal with them. At the beginning of a series of 10 face-to-face coaching sessions, I was not convinced that cultural differences are such an important factor to be considered by Managers. Margret Steixner helped me to become sensitive to different 'cultural codes' and to learn how to adjust my leadership style. I recommend 'cultural training' to any Manager who wants to achieve his objectives in different cultural surroundings.
My dissertation offers insights into the process of developing intercultural competencies.
It is published in German in the edition: ÖFSE Forum.
Lernraum-Interkultur. Von interkultureller Erfahrung zu interkultureller Kompetenz.
Potentiale und Relevanz des interkulturellen Coachings am Beispiel von Fachkräften der Entwicklungszusammenarbeit.
Vienna: Südwind 2007 ISBN 13:978-3-9502306-4-2
Download from the editors website www.oefse.at (pdf, 2 MB)
Margret Steixner - Lernraum Interkultur (Von interkultureller Erfahrung zu interkultureller Kompetenz) - Dissertation June 2007 (pdf / 2,5 MB)
---
Skills for the global world - inquiring into the evolution and development of intercultural competencies.
IACCM_Conference2015 (pdf / 0,4 MB)
Best Practitioner Presentation Award: iaccm2015.sietar.at
---
Manual for European Works Councils (GPA/djp) 02/2011:
Intercultural Competence for European Works Councils. Intercultural challenges and solution strategies.
Download the presentation (pdf / 0,7 MB)
Gruppendynamik und Organisationsberatung 3/2011: Zeitschrift für die Entwicklung von Gruppen, Personen und Organisationen
"Interkulturelle Kompetenz: Beleuchtung eines Entwicklungsprozesses"
---
Sozialwissenschaftliche Rundschau 3/2010
"Kultur lernen durch interkulturelles Training und Coaching."
SWS_Steixner3_10 (pdf / 0,4 MB)
---
interculture-journal 8/2009: online Zeitschrift für interkulturelle Studien

"Fine-tuning durch interkulturelles Coaching."
Download the paper (pdf / 0,6 MB)